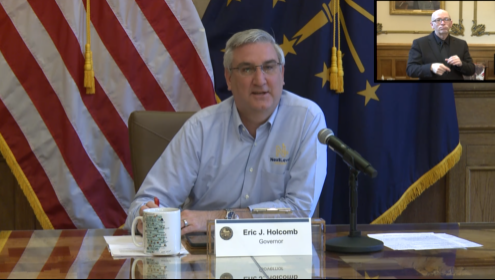 April 20, 2020
Story updated 2020 04 20 17:25

Governor Holcomb extended his "Stay at Home Order" to May 1st. Indiana Governor Eric Holcomb was originally issued Monday, March 23, Executive Order 20-08, ordering all Hoosiers to stay at home from March 25 to April 7 unless they are performing essential functions or work in essential industries. This order was replaced on April 6 by Executive Order 20-18, which is in effect until April 20. Today the Governor issued a new Executive Order 20-22 extending the earlier deadline to May 1st, including relaxing earlier restrictions see below for details.
Pet Grooming Services Permitted
Executive Order 20-22 allows for pet grooming which may occur at a pet salon or store or by mobile unit; however; no pet grooming shall be provided to customers inside any home at this time.
Restrictions on Elective Medical Procedures Being Phased Out
The Governor also said the plan is to relax some restrictions on hospitals. Starting Tuesday April 21st, a phased reduction in restrictions will begin.
The first stage allows hospitals to begin performing elective procedures. If the inventory of Personal Protective Equipment (PPE) remain at appropriate levels, other medical practices and procedures will be permitted the following week — Monday, April 27th. Each facility will determine if their local circumstances permit these actions.
These restrictions were put in place to conserve the inventory of Personal Protective Equipment (PPE), in preparation for the anticipated COVID-19 surge. This surge across the state was not as dramatic as originally anticipated. The Governor said this was due to in large part Hoosiers following the "Hunker Down" orders, and the heroic efforts by clinicians across the entire state. Governor Holcomb praised everyone for their service and sacrifice.
---
The Governor's executive order verbatim:
Healthcare and Public Health Operations "For purposes of this Executive Order, individuals may leave their residences to work for or to obtain services through Healthcare and Public Health Operations. The phrase "Healthcare and Public Health Operations" includes the following: hospitals; clinics; dental offices; pharmacies; public health entities, including those that compile, model, analyze and communicate public health information; pharmaceutical, pharmacy, medical device and equipment, and biotechnology companies (including operations, research and development, manufacture, and supply chain); organizations collecting blood, platelets, plasma, and other necessary materials; obstetricians and gynecologists; eye care centers, including those that sell glasses and contact lenses; home healthcare services providers; mental health and substance use providers; other healthcare facilities and suppliers and providers of any related and/ or ancillary healthcare services; entities that transport and dispose of medical materials and remains; and veterinary care and all healthcare services provided to animals."
Further, the phrase "Healthcare and Public Health Operations" shall be construed broadly in order to avoid any impacts to the delivery of healthcare.
"In addition as long as sufficient personal protective equipment (PPE) staff and other supplies are available so as not to detract from what is necessary and appropriate to properly care for and treat patients who have or may have COVJD-19, hospitals should conduct clinically "indicated procedures meant to diagnose, screen and treat medical conditions that have the potential for short-term or long-term morbidity and/or mortality.
These include but are not limited to, cardiac, vascular; neurologic, cancer, gastrointestinal and respiratory procedures as well as those procedures meant to reduce significant pain or symptoms making quality of life unacceptable.
Furthermore in connection with health care providers whether medical, dental or other; and health care facilities whether hospitals ambulatory surgical centers dental facilities plastic surgery centers dermatology offices, abortion clinics or veterinary practices any current restrictions involving their medical procedures that have been imposed by an Executive Order will be re-evaluated for possible modifications as warranted by the circumstances, that would allow for them to resume commencing as of 11:59 p.m. on Sunday April 2, 2020. In addition these restrictions on medical procedures will be re-evaluated every seven (7) days thereafter for any appropriate and timely modifications that could be implemented. "
---
Governor's latest executive order (20-22) found here >>CLICK HERE <<
Link to essential functions / industries may be found https://www.in.gov/dhs/4434.htm
Links to all executive orders may be found here: https://www.in.gov/gov/2384.htm
This is a developing story and has been updated.
---
Content – Governor Holcomb Press Release
Contact Person:
Rachel Hoffmeyer
RHoffmeyer@gov.IN.gov
Story updated 2020 04 20 15:30
Story updated 2020 04 20 16:15
Story updated 2020 04 20 16:50
Story updated 2020 04 20 17:25