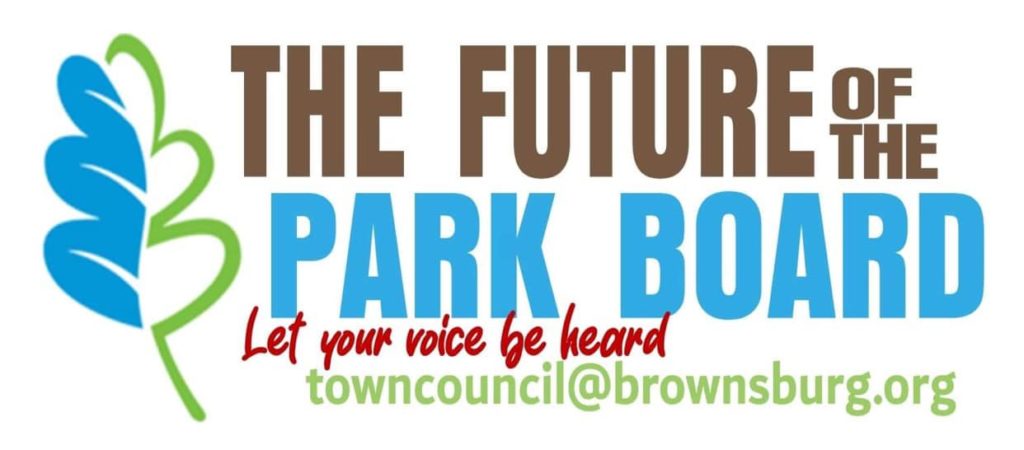 Elimination of Park Board Discussion @ Town Council June 24th

TOWN COUNCIL
AGENDA
DATE OF MEETING: Thursday, June 24, 2021, 7:00 PM
PLACE OF MEETING: Brownsburg Town Hall
61 N. Green Street
Brownsburg, IN 46112
The average town council meeting is run of the mill, covering the standard agenda items:
#4 Citizens Relating to the Agenda
#5 Consent Items (approval of town expenses)
#6 Bid Opening and Awards
#7 Reports from Commissions and Boards
#8 Town Administrative Items
#9 Previously Considered Items
#10 New for Consideration
#10.5. Discussion of the Future Direction of the Board of Parks and Recreation

The agenda item noted above (10.5) causes us great concern. We at the Brownsburg Sentinel believe the upcoming Town Council meeting is newsworthy as a result.
We felt compelled to notify you the public of the potential for dramatic change to our local government's structure. A board established in 1959, which has served the community well for greater than 60+ years.
This item is listed on the agenda as a discussion item, as a result no official action will be taken at THIS meeting. However, for those who say "this is ONLY a discussion" a vote will never be taken please read on.
Please click on the picture below for a 19 page legal feasibility document requested by the Town of Brownsburg in May 7th 2020. The document contains details regarding the following:
* – Authority of the Town Council to dissolve the Board of Parks and Recreation
* – Statutorily Required Process and Timeline to Dissolve the Park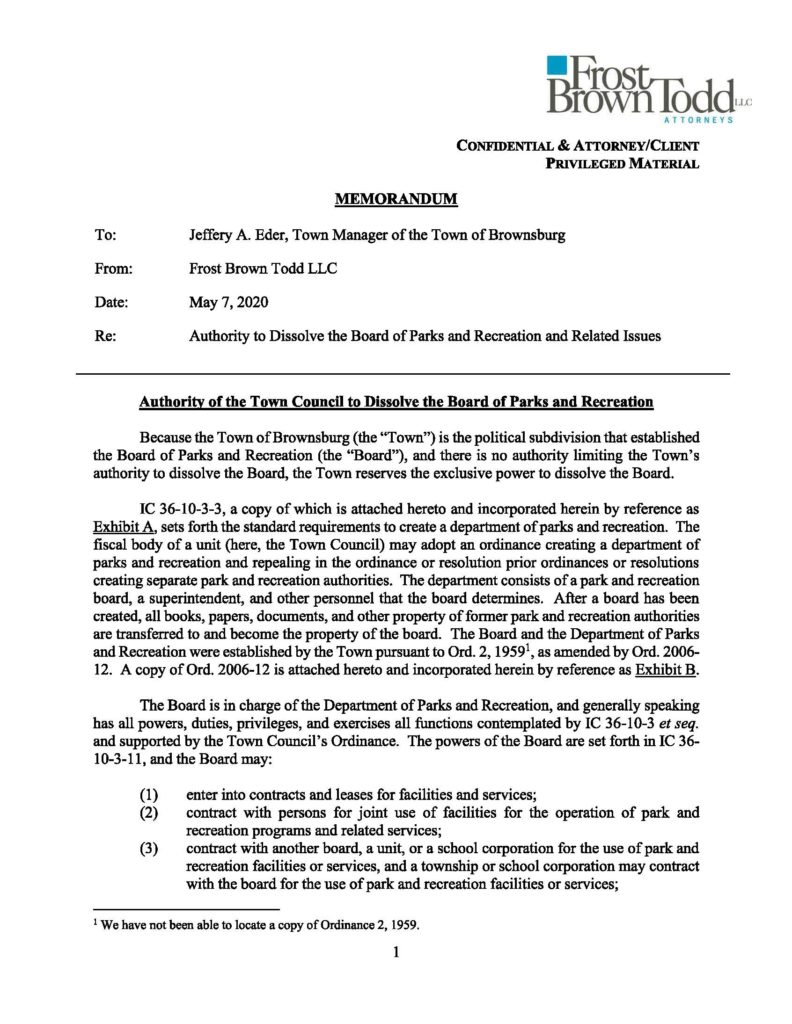 This document describes HOW to legally dissolve the Park Board. It provides NO insight into WHY this matter is being considered by this administration. Perhaps the town council will shed some light on the "WHY" this coming Thursday (06/24).

If you are or are not in support of keeping the parks and rec's board — ATTEND TOWN COUNCIL Express yourself in the ONLY forum that matters! –Town Council – Thursday, June 24, 2021, 7:00 PM —
If you are unable to attend — Email your concerns for or against to towncouncil@brownsburg.org. In the email, ask your email is read into the record at Agenda line #4 "CITIZENS COMMENTS RELATING TO JUNE 24, 2021 AGENDA" — Comments relating to agenda item 10.5 "10.5. Discussion of the Future Direction of the Board of Parks and Recreation".
(2021/06/22) In a post in social media – Town Councilman Brian Jessen said the following " But I know that the two other governing bodies who have a seat on our Park Board (being the School Corp and the Library Board) have not been consulted about this discussion. No, the Council does not need their permission to dissolve the Park Board. But not telling them/keeping them in the dark is very underhanded. Council members wonder why the Council itself isn't trusted. "
"You many not receive the governance you vote for, you always receive the governance you tolerate". — The Editor
---


---
Content courtesy of the Town of Brownsburg and The Editor
Article updated with Town Councilman Jessen's social media comments