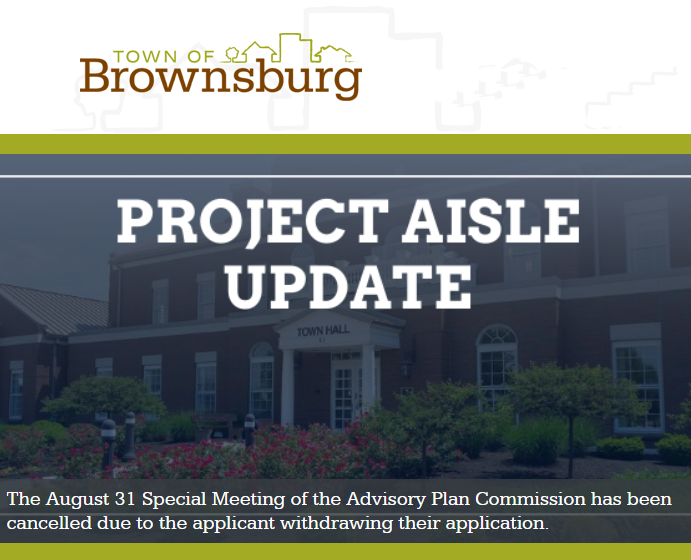 August 27, 2020
The Town of Brownsburg Updated their website (see above) with this notice at approximately 2:30 pm August 27th 2020. Their website update follows a public notice sent from the Town on Wed 8/26/2020 4:09 PM.
By the applicant withdrawing their submission to the Advisory Plan Commission, is an indication the Town of Brownsburg is no longer being considered as a location for their project (see the meeting cancellation notice below).
---
What is Project Aisle?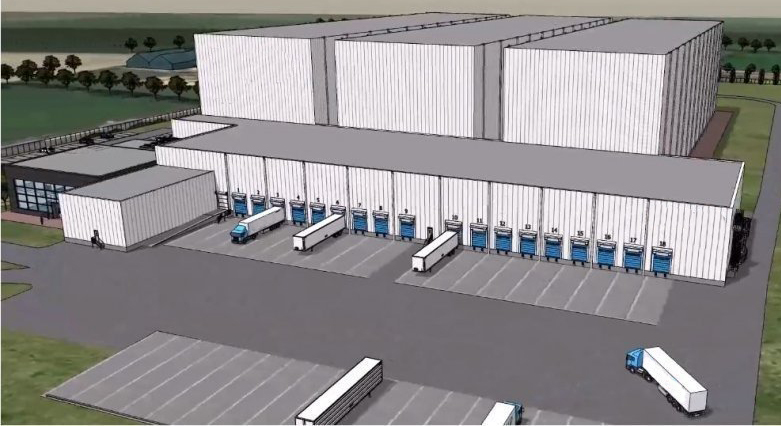 Details are few. Here is what is known:
150-million-dollar (est.) project
150 employees spread across 3 shifts
450,000+ total sq. ft. under roof

160 ft max. building height (142 ft minimum height)

100,000 pallets stored with provisions for expansion
65 ft dock structure height
30 ft office area height
50 acre site is desired
24/7 hours of operation
200+ truck/trailer parking spaces
100+ car parking spaces
Rail car transport in the near future
State and other incentives are part of the package
The proposed location of the facility is directly adjacent to agricultural and residential areas at Ronald Reagan Parkway and E County Road 400 N.
While the name of the company is not being disclosed; we know for sure is Project Aisle is a state-of-the-art cold storage facility utilizing full automation to fulfill the logistics needs of their growing client base. This cold storage facility uses automated storage and retrieval systems (ASRS) to automatically transport products in and out of their "lights out" high-bay warehouse. The warehouse "dark" portion of the environment is kept at low oxygen levels and below zero.
This facility is estimated to be approximately 450,000 square feet with a minimum ceiling height of 142 feet. The applicant, an employee of Fisher Construction Group said this height allowed for storage of up to 100 pallet positions vertically. This new design offers improvements in energy efficiencies and safety measures when compared to conventional cold storage solutions. To achieve similar storage capacity using traditional construction methods would take over 1 million square feet built horizontally.
---
Why was Project Aisle important to the Town of Brownsburg ?

The Town of Brownsburg has the opportunity to add potentially $4 million annually to its tax rolls and more than 150 well-paying jobs through Project Aisle.
Employees would be considered high-skilled workers, who generally make 60% more than the county average salary.
---
What were the area residents concerns?
Brownsburg area residents have shared a myriad of concerns about "Project Aisle", and the list continues to grow as more residents become aware:
The Town of Brownsburg Comprehensive Plan is not compatible with Project Aisle. This Plan allows for Flex/Light Industrial areas that are "well buffered and screened" from adjacent residential areas.
The surrounding traffic infrastructure cannot support such a high intensity industrial project.
The noise from the facility and semi truck traffic will be disruptive to all surrounding agricultural and residential areas.
Property values will plummet from noise, traffic and obstructions of view.
This project will discourage continued development of commercial and light industrial areas on Ronald Reagan Parkway.
The chemicals and waste used to sustain such a large deep-freeze facility will contaminate the water quality of the nearby residential well water systems.
This project will "open the door" to many other industrial applications along Ronald Reagan Parkway that are not suitable in our area. Other I2 zoning applications include bio-diesel production, liquid fertilizer distribution, stone cutting, chemical manufacturing, crematory services, meat processing, and more. Having one I2 zone will make it easier for others to be approved and will discourage lighter industrial-I1 development along the parkway.
This gigantic facility is not only in the front yard of multiple neighbors, but it is in the front yard of the Town of Brownsburg. This building will become an integral part of the identity of our area.
Project Aisle will tie into the railroad system, which will slow down train traffic on US 136 and beyond.
Our small town is not appropriate for a facility that handles 200 trucks per day, but this facility could do as many as 200 trucks per 8-hour shift. You don't build the church for Easter Sunday, and you don't build the parking lot for the peak traffic either. This is terrifying.
The shadow of such a large facility will have a dramatic impact on properties to the east and west of it.
This facility has a very specific structure that cannot be recycled for other uses. What happens when the company behind "Project Aisle" goes bankrupt or decides to vacate once tax incentives expire?

Source: – http://stopprojectaisle.com/

Source for the above content http://stopprojectaisle.com/
---
How did Project Aisle Fail in Brownsburg ?
At the August 10th, 2020 Advisory Board of Zoning Appeals (BZA) – Regular Meeting one item on the agenda was the 160 ft height variance from applicant. Nearly 80+ people attended filled town hall, the overflow tech room and hallway. All of whom testified they were against the project. Three questions are by Brownsburg ordinance required to be answered. The applicant failed to answer:
Question #2 — " (2) The use and value of the area adjacent to the property included in the variance will not be affected in a substantially adverse manner."
Multiple members of the BZA committee asked "Could there be a reduction in adjacent property values?" — The applicant was unable to provide an answer with supporting evidence. The vote on the variance request failed unanimously, statute allowed no other result.
Reference:
Advisory Board of Zoning Appeals – Regular Meeting
http://brownsburgin.swagit.com/play/08112020-547
BZDV-06-20-1834 PROJECT AISLE MAXIMUM STRUCTURE HEIGHT
---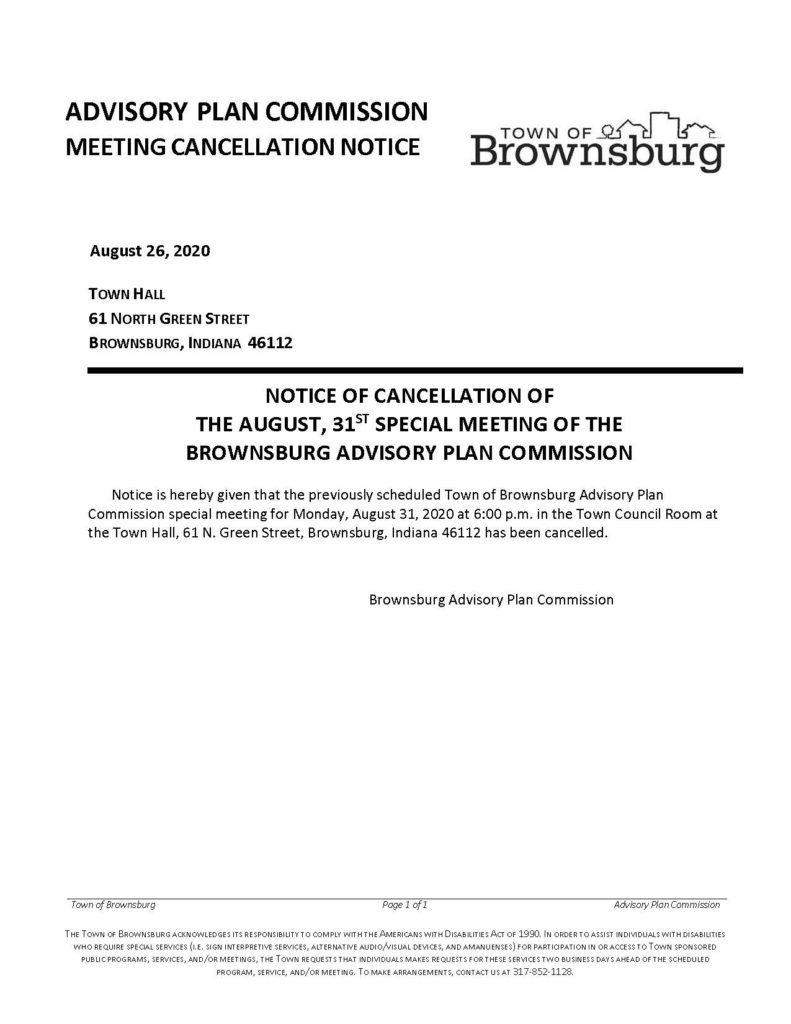 ---

---
Content by the Editor and the Town of Brownsburg
2020 08 31 – Article updated with Project Aisle Details from – the Editor, stopprojectaisle.com, August 10th BZA meeting.