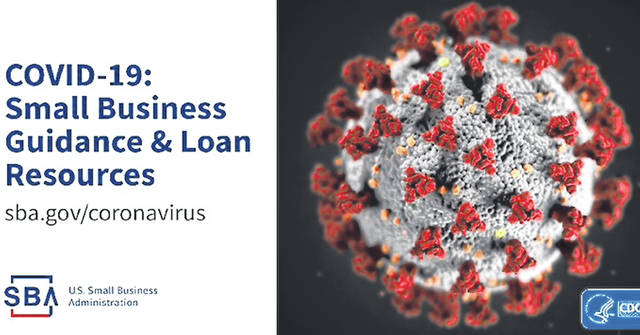 April 5th, 2020
Coronavirus (COVID-19): Small Business Guidance & Loan Resources

---
Disaster Loan Assistance
COVID-19 ECONOMIC INJURY DISASTER LOAN APPLICATION



STREAMLINED PROCESS REQUIREMENTS
SBA is collecting the requested information in order to make a loan under SBA's Economic Injury Disaster Loan Program to the qualified entities listed in this application that are impacted by the Coronavirus (COVID-19). The information will be used in determining whether the applicant is eligible for an economic injury loan. If you do not submit all the information requested, your loan cannot be fully processed.
The Applicant understands that the SBA is relying upon the self-certifications contained in this application to verify that the Applicant is an eligible entity to receive the advance, and that the Applicant is providing this self-certification under penalty of perjury pursuant to 28 U.S.C. 1746 for verification purposes.
The estimated time for completing this entire application is two hours and ten minutes, although you may not need to complete all parts. You are not required to respond to this collection of information unless it displays a currently valid OMB approval number.
ELIGIBLE ENTITY VERIFICATION
---
Above content provided by :
U.S. Small Business Administration
OMB Control #3245-0406
Expiration Date: 09/30/2020
SBA Office of Disaster Assistance | 1-800-659-2955 | 409 3rd St, SW. Washington, DC 20416

Previous News Article Follows Below:
---
March 19th, 2020 INDIANAPOLIS – Governor Eric J. Holcomb today announced that Indiana small businesses are eligible for financial assistance under a disaster designation by the U.S. Small Business Administration (SBA).
This declaration is in response to a formal request Gov. Holcomb submitted with the SBA on Tuesday, seeking assistance through the organization's Economic Injury Disaster Loan program for small businesses impacted by the COVID-19 outbreak in Indiana.
"Small businesses play a critical role in driving Indiana's economy forward, with more than 512,000 employing 1.2 million Hoosiers across the state," Gov. Holcomb said. "These disaster loans will provide much needed financial support to small business owners who are weathering the impact of the coronavirus outbreak."
Under the program, small businesses, small agricultural cooperatives and nonprofits across the state are eligible to apply for low-interest loans up to $2 million to help overcome the temporary loss of revenue due to the COVID-19 outbreak. These loans may be used to pay fixed debts, payroll, accounts payable and other bills incurred during this public health emergency. The loan interest rates for small businesses and nonprofits are 3.75% and 2.75%, respectively, with terms up to 30 years.
To qualify for disaster loans, applicants must demonstrate credit history, the ability to repay the loan, and proof of physical presence in Indiana and working capital losses. Additionally, the Indiana Small Business Development Center, which has 10 regional offices throughout the state, will provide free business advising and application assistance for small businesses impacted by the COVID-19 outbreak.
To apply for loans or receive more information about the Economic Injury Disaster Loan program, visit SBA.gov/Disaster. Contact 1-800-659-2955 or disastercustomerservice@sba.gov with additional questions. The deadline to apply for the disaster loans is Dec. 18, 2020.
You can learn more about how to apply for the loans from the SBA by clicking here.
---
Governor Holcomb Press Release
Contact:
Rachel Hoffmeyer
RHoffmeyer@gov.IN.gov