BCSC: 2nd Quarter Update
Data to help inform parent decisions for second semester

Dear BCSC Families,

In his last two weekly addresses, Governor Holcomb put an end to the rumor that he would close schools. Based on all of his public comments, he does not intend to close schools and believes, when possible, students should attend school in person. Yet yesterday the Marion County Department of Health directed schools in Marion County to go to 100% virtual instruction after Thanksgiving break. BCSC has no pre-established target number of cases or percentage of cases which would automatically force a school closing. It is our intent to remain in school until otherwise directed by an appropriate authority.

The rise in cases we are seeing in the nation and state has impacted our schools as well.
In the first quarter of school (which consisted of 46 school days) there were 28 positive student cases of COVID. In the second quarter of school (which consists of 20 school days thus far) there have been 53 student cases of COVID. We have seen the highest number of positive cases this week, with 30 student cases since Saturday.
School staff who tested positive impacted three of our students in the first quarter (meaning students were quarantined as a result of being exposed to a BCSC staff member). So far in the second quarter, six students have quarantined as a result of contact with a staff member.
In the last two weeks, two elementary classes have been quarantined as required by the Hendricks County Health Department. An elementary class is generally quarantined when two or more students are tested positive for COVID. (Elementary classes are treated differently than secondary classes because students remain together for the majority of the school day.) In our seven elementary schools we have 192 grade level classrooms.
While it is impossible to know for certain, it is reasonable to assume that in at least one of the two classrooms, COVID was spread at school as five students tested positive in that classroom.
We continue to see the highest number of student cases at BHS, keeping in mind the high school in-person enrollment is 2,402. A significant number of BHS students who have tested positive have been traced to attending weekend, non-school related gatherings.
As the positive cases increase, so do the number of students quarantined. Typically students who test positive and ride the bus drive up the number of students who must be quarantined.
1,163 students have been quarantined by the Hendricks County Health Department for school close contact and all that have completed their quarantine have returned to school on time.
Of the 81 students who have tested positive for COVID, with one exception, all have completed their recovery on time and returned to school.
27 positive cases were identified over fall break that have no school contact. (Those are not reflected in the numbers below.)
Three students participating in At Home Learning have tested positive. (Those are not reflected in the numbers below.)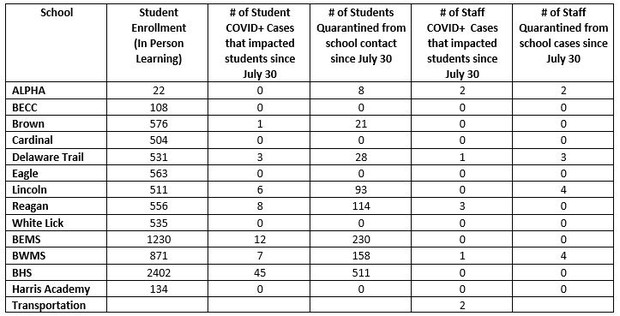 Prior to Fall Break, I shared two upcoming windows for parents to reevaluate the current placement of either At Home Learning or in person at school. For the second quarter, the At Home Learning number dropped from 1,163 at the end of the first quarter to 965. Our current breakdown for second quarter is 965 of students in At Home Learning (10%) and 8,543 students in person at school (90%). Prior to Thanksgiving, another update will be provided with the opportunity for parents to change placement for the second semester through a link included in that message. Parents will have until December 4 to make their decision for the second semester.
Thank you for your patience and understanding as we work through the safest and most effective way to teach your children during this pandemic.
Jim Snapp
Superintendent
---
Content by Brownsburg Community School Corporation