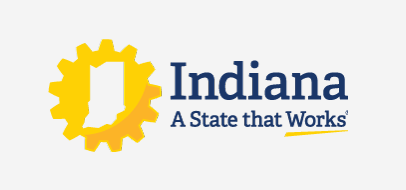 May 11, 2020 – Restaurants and bars that serve food may open at 50% capacity.
Bar seating will remain closed.
"As everyone knows, restaurants are set to reopen for dine in service tomorrow. Please, if you are sick, stay home, we'll still be here in a couple of weeks when you're better. We are under A LOT of restrictions and regulations to reopen. These include restricted / limited seating, limited hours and menus. We have to follow the state guidelines to a T. No we can't make exceptions, just because you see open tables, doesn't mean we can use them.

Please be patient, we're going to do the best that we can and we're all learning this "new normal". Getting upset with the staff doesn't help or make the process any easier. The health and safety of our staff and guests are top priority and we want everyone to stay healthy and safe". Social Media post — R.H.

"Don't go out to eat if you can't tip accordingly! Servers have had a dramatic cut in income doing the half capacity and they will not be making nearly as much as they are use too! I understand most of us are struggling thru this weird time in the world, but they are just as much at risk as other people now!" Social Media post — T.T.

NOTE: For a variety of reasons restaurants may not open for dine in, or delay opening for dine in, or due to stricter local restrictions. Please contact the businesses below, for the approach which they've chosen to take. — The Editor.
---

What to expect?
Below are the guidelines restaurants are requested to follow:
Restaurants
• Develop a protocol to screen employees upon entry
• Require symptomatic employees to stay home and recommend they be tested
• Place hand sanitizer in lobby, at cashier stations, and in restrooms
• Provide non-surgical masks and require use by employees
• Require employees to wash hands frequently
• Post signage stating customers should not enter with a fever or symptoms of COVID-19 or develop a protocol to screen customers
• Bar areas to remain closed
• Live music not permitted
• Limit the number of customers in the restaurant to 50% of the seating capacity
• Tables or available booths should be spaced at least 6 feet apart (including outside seating areas)
• Limit the number of customers at any table to 6 or less
• Consider using a reservation and/or call ahead only process to ensure capacity and distancing requirements are not exceeded
• Limit number of persons in a waiting area (consider using a text or intercom system or allowing only one member of a party to remain in waiting area with areas in the waiting area marked to ensure proper distance)
• Consider installing shields at host/hostess stand and cashier stand
• Do not offer self-serve buffets, beverage stations, or condiments on a counter for access by multiple users
• Provide food handling refresher training to all employees
CLEANING AND DISINFECTING
• Frequently clean high-contact areas such as door handles, phones, pens, and keypads
• Use electronic ordering or disposable menus, or sanitize menus after each use
• Use disposable silverware or rolled silverware (and use gloves when rolling)
• Sanitize all tabletops and chair arms after each table turns
• Increase cleaning of restrooms
• Enhance cleaning of facility after hours and use recommended disinfectants
---
Hendricks County Health Departments FAQ's regarding restaurant guidance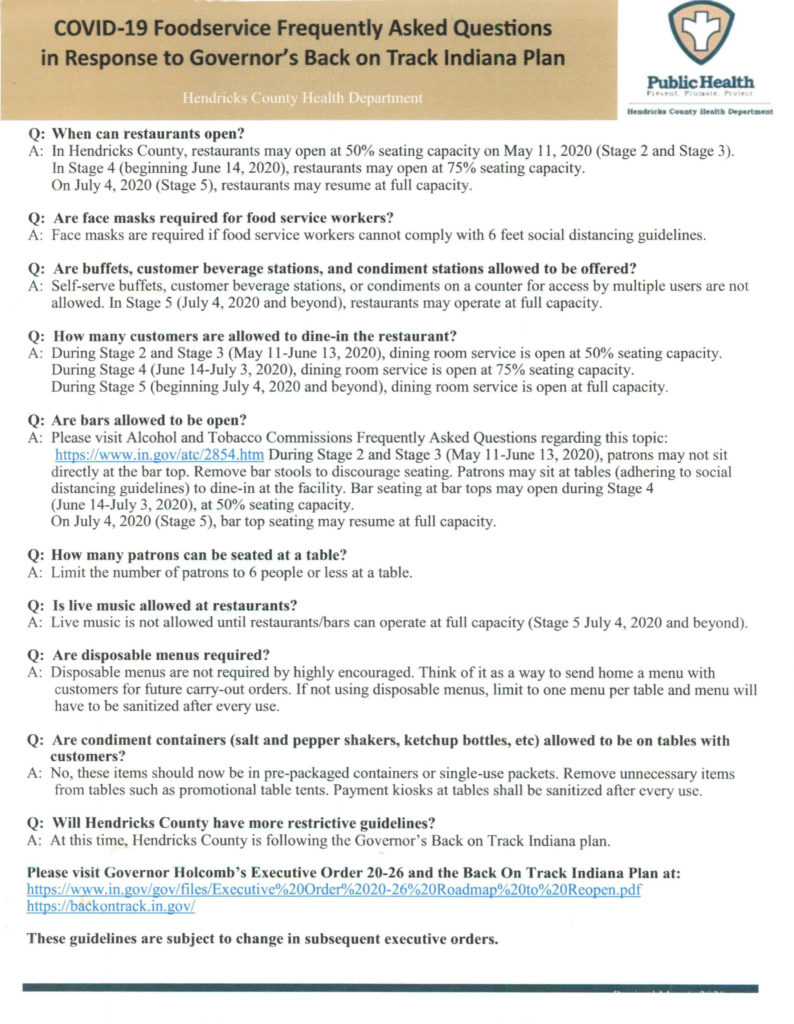 ADDITIONAL RESOURCES MAY BE FOUND AT: restaurant.org/home and fda.gov/food
A number of associations and businesses have provided the state with guidance for their members and associates. These may be at: found www.in.gov/backontrack/industryguidelines.htm
---
These Restaurants may offer Dine In, Carry Out, Carry to the Curb, and/or Delivery. Please contact each regarding their hours of operations, menu and service offerings.


TIP YOUR SERVING / DELIVERY STAFF ! !!
Updated as of 2020/05/10 – 17:30
These area restaurants are confirmed to be operating as of the date and time of this report. During these unusual times, many restaurants may have changed:
Abbreviated Menus
Adjusted hours of operation
Different dates opening for Dine in
Different forms of Dine in (taking reservations, other methods to meet 50% seating).
Different forms of online ordering
Different forms of delivery
May offer daily specials, or other promotions
May take longer to process your order, please be patient
Please contact each via web or phone regarding their unique offerings
Standard Fast Food –
Arbys
Burger King
Culvers
Dairy Queen
FireHouse Subs (317) 858-5082
Five Guys (317) 858-3012
Kentucky Fried Chicken
Jimmy Johns (317) 852-4900
McDonalds (2) Locations
Penn Station Subs (317) 852-7366
Qdoba (317) 852-0138
Taco Bell
Wendys
WhiteCastle
Applebee's (317) 858-0291
Asia Wok (Scheduled to Re-open May 10th) (317) 852-2967
Ben's Soft Pretzels (317) 456-7673
Best Friends Coffee & Bagels (317) 350-2185
Bob Evans (317) 858-3991
Books and Brews – Brownsburg (317) 456-4216
Boulder Creek (317) 858-8100
Brickers Pub (317) 858-2745
B Squared Bar & Grill (317) 858-1569
Buffalo Wild Wings (317) 456-4982
Charbonos (Avon) (317) 272-1900
China's Best (Brownsburg) – CLOSED
Cracker Barrel (Whitestown) 317-769-5205
Dawson's Too – Sticks And Stones (317) 858-8400
Donatos Pizza (317) 858-2680
Dick and Judy's (Jamestown) (765) 676-5707
Emmys (Avon) Opens Tuesday 04/28 (317) 272-7200
El Toro (317) 858-9994
FlapJacks Brownsburg (317) 852-4905
Green Street – Opens May 12 (317) 852-6644
Hilligoss Bakery (317) 852-7451
HotBox Pizza (Brownsburg) (317) 350-2902
Ho Wah OPEN ! (317) 858-8218
Iguana's Mexican Bar & Grill (317) 838-8444
Lizton Dairy Bar (Lizton) (317) 994-5399
Mandy's IceCream (317) 350-2467
Mason Inn (Pittsboro) (317) 892-8200
McAlisters Deli (317) 939-3500
Mediterranean Pizza – (Scheduled to Open May 12) (317) 858-5888
Noble Roman's Craft Pizza & Pub (317) 852-4433
Olive Garden (Avon) (317) 273-0889
Panoony's Pizza (317) 286-3500
Papa John's Pizza (317) 858-7272
Papa's Pizzeria (317) 858-2469
Penn Station Subs (317) 852-7366
PHO 88 – Vietnamese (317) 286-7018
Pit Stop BBQ & Grill (317) 858-8370
Pittsboro Pizza Shoppe (Pittsboro) (317) 892-4400
Pizza Hut (317) 852-3129
Pizza King Ladoga (765) 942-5066
RockStar Pizza (317) 858-1188
Rush on Main (317) 286-7002
Rusted Silo Southern BBQ & Brew House (Lizton) (317) 994-6145
Sal's Famous Pizzeria Brownsburg (317) 858-8700
So Italian (317) 858-4777
Steak and Shake (317) 858-7610
Subway (Multiple Locations)
Tegry Bistro (317) 858-9505
Tequila Sunrise (317) 858-5342
Texas Roadhouse (Avon) (317) 209-9352
Thai Basil (317) 286-7545
Thai District Restaurant (317) 939-2112
The Hayloft (317) 939-2957
Uptown Cafe (North Salem) CLOSED (765) 676-9063
Whiskey Bent Bar & Grill (Avon) (317) 386-8907
Yamato Sushi & Hibachi Express – (317) 286-7175
---
Also Consider these delivery options: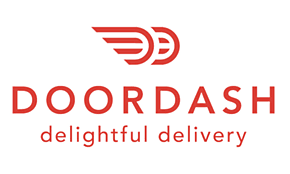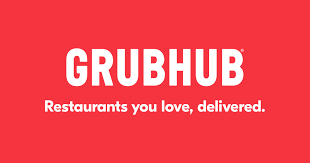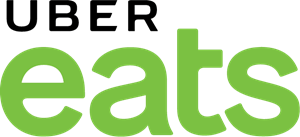 Click on the logo's above to be taken to their respective websites.
---
Send an email to the editor to add/change a restaurant to this list.
---

Click on the banner above for continuing coverage
---
Credit: Donna DeMont Stout For This Idea
Updated as of 2020/03/17 – 13:15
Updated as of 2020/03/17 – 14:15
Updated as of 2020/03/17 – 14:30
Updated as of 2020/03/17 – 14:50
Updated as of 2020/03/17 – 15:05
Updated as of 2020/03/17 – 15:10
Updated as of 2020/03/17 – 15:50
Updated as of 2020/03/17 – 18:15
Updated as of 2020/03/18 – 13:15
Updated as of 2020/03/18 – 13:17
Updated as of 2020/03/18 – 23:45
Updated as of 2020/03/19 – 12:15
Updated as of 2020/03/19 – 17:00
Updated as of 2020/03/19 – 19:30
Updated as of 2020/03/19 – 21:15
Updated as of 2020/03/19 – 21:25
Updated as of 2020/03/20 – 13:35
Updated as of 2020/03/22 – 21:00
Updated as of 2020/03/23 – 14:30
Updated as of 2020/03/23 – 21:30
Updated as of 2020/03/24 – 09:30
Updated as of 2020/03/27 – 19:50
Updated as of 2020/03/28 – 17:50
Updated as of 2020/03/30 – 21:50
Updated as of 2020/04/02 – 17:55
Updated as of 2020/04/03 – 08:55
Updated as of 2020/04/05 – 12:55
Updated as of 2020/04/09 – 11:35
Updated as of 2020/04/19 – 11:35
Updated as of 2020/04/20 – 19:35
Updated as of 2020/04/22 – 13:00
Updated as of 2020/04/22 – 20:00
Updated as of 2020/04/27 – 23:00
Updated as of 2020/04/30 – 19:00
Updated as of 2020/05/10 – 17:30