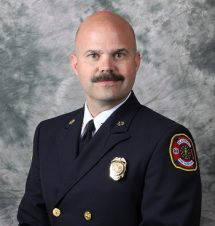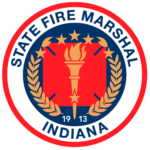 March 4th 2020 – Gov. Eric J. Holcomb today announced he has selected Plainfield Fire Chief Joel Thacker to serve as the Indiana state fire marshal.
"Chief Thacker has risen through the ranks to bring 28 years of fire and emergency response experience to the position of Indiana fire marshal," Gov. Holcomb said. "In his new role, he will continue to grow relationships with our state's first responders and increase public safety for all Hoosiers."
Thacker began his career as a first responder in 1992 as an EMT and volunteer firefighter in central Indiana. Five years later, he became a career firefighter serving in Brownsburg and then Johnson County's White River Township. Thacker served in Brownsburg as assistant chief before moving to Plainfield in 2015 to become division chief of fire prevention and administration. He was sworn in as Plainfield fire chief in 2017.
Thacker earned a bachelor's degree in business administration from Indiana Wesleyan University and a master's degree in criminal justice and public safety from IUPUI.
Gov. Holcomb appointed former state fire marshal Stephen Cox as the executive director of the Indiana Department of Homeland Security in January. The fire marshal leads the Indiana Department of Homeland Security Division of Fire and Building Safety. The division investigates suspicious fires, promotes fire prevention and enforces fire and building safety codes in all public buildings, among other duties.
Thacker will begin his new position on April 6.
---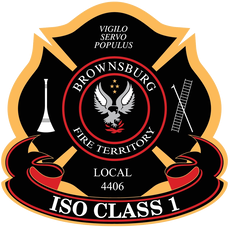 From our friends at the Brownsburg Fire Territory–
"BFT was lucky enough to have had Chief Thacker as a member of ours during his career. We have every confidence that he is going to a great job in the Fire Marshal's office."
---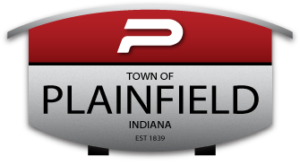 PLAINFIELD, IN – Plainfield Fire Territory Chief, Joel Thacker, has accepted the Fire Marshal position for the State of Indiana. Thacker is a 28-year veteran of public safety and has been with the Plainfield Fire Territory for 5 years.
"The Town is not surprised by the advancement of Chief Joel Thacker," said Town Manager, Andrew Klinger. "His leadership of the Plainfield Fire Territory and engagement in the community has been exemplary. While we are sad to lose him, we are excited for him to take on this new role that will benefit the entire state of Indiana."
Joel Thacker has served the Town of Plainfield since 2015 and was named Chief of Plainfield Fire Territory in 2017. A graduate of Center Grove High School, Joel completed studies and graduated from Indiana Wesleyan University with a Bachelors Degree in Business Administration and IUPUI where he completed a Masters Degree in Criminal Justice and Public Safety from the School of Public and Environmental Affairs (SPEA).
"I am humbled by the trust Governor Holcomb has in me to lead in this position as well as provide support and direction to all first responders and their agencies state wide," said Chief Joel Thacker. "I am grateful for all of the support, guidance and encouragement from the entire Plainfield Fire Territory and from the leaders of this Town. It settles me knowing I am leaving the department at this time under strong guidance and leadership."
As State Fire Marshal, Thacker will lead the Indiana Department of Homeland Security Division of Fire and Building Safety. The division investigates suspicious fires, promotes fire prevention and enforces fire and building safety codes in all public buildings, among other duties. — Press Release Town of Plainfield
---
Content courtesy of Office of Governor Eric J. Holcomb, Press Secretary
Original Press Release Click Here
Media Contacts:
Office of Governor Eric J. Holcomb
Rachel Hoffmeyer, Press Secretary
rhoffmeyer@gov.in.gov
317-914-5634
Town of Plainfield Press Release Click Here
Brownsburg Fire Territory Social Media
Indiana State Fire Marshal Office Click Here