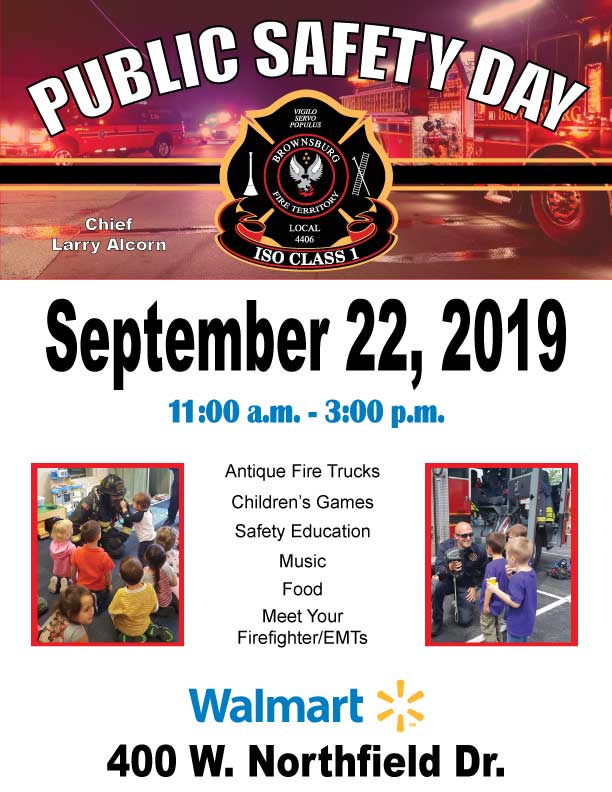 Brownsburg Fire Territory will host their Public Safety Day event on September 22nd, 2019 from 11:00am to 3:00pm. The event will take place in the parking lot of Wal-Mart, located at 400 West Northfield Drive, Brownsburg.
Fire Hose Races!, Get Your Picture Taken "Driving" a Fire Truck, Meet the Firemen and Women, EMT's, Plus more activities for kids of all ages.
Free food and prizes will be available throughout the event. Over 40 organizations representing government, public safety, U.S. military, public utilities, healthcare, wellness, and others will join Brownsburg firefighters, paramedics, and staff for the 4-hour event. Featured exhibits include a live power demonstration by Hendricks Power, Versiti's (Indiana Blood Center) mobile blood donation vehicle, Indiana National Guard Earthquake Simulation, and many other games and demonstrations.
This annual event offers valuable time for our firefighters and paramedics to interact one-on-one with members of the community. The event is designed to be a fun learning opportunity for all ages.
Content by the Brownsburg Fire Territory and the Editor
---
About the Brownsburg Fire Territory
Brownsburg Fire Territory has served the Brownsburg area since 1942. The firefighters and paramedics of Brownsburg Fire Territory provide fire protection, technical rescue, and emergency medical services to a 52 square mile district in Northeastern Hendricks County, Ind. This district includes Brown Township, Lincoln Township, and the Town of Brownsburg. For Additional Information Click >HERE<
---
For additional information contact:
Firefighter Jim Miller
Public Information Officer
Headquarters & Training Facility
470 East Northfield Drive
Brownsburg, Indiana 46112
Main – (317) 852-1190
Office Administrative Hours – Monday-Friday 8:00am-4:30pm