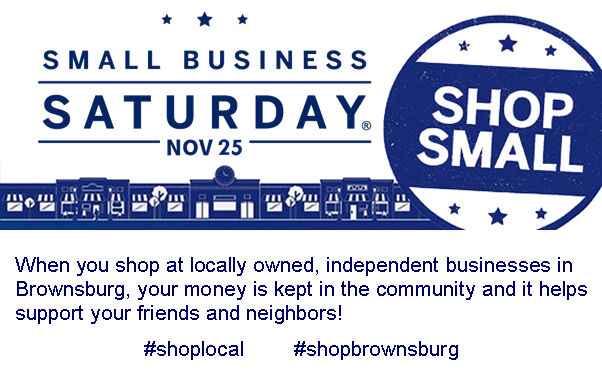 As a small business, it's tough to compete with Black Friday deals. The Brownsburg Chamber is encouraging you to Shop Small and Shop Local during Small Business Saturday and this holiday season.
The Brownsburg Chamber along with the Town will serve as a Neighborhood Champion to help promote small business on Saturday, November 25.
We will produce a Shop Small passport that shoppers can take all over town to get stamped by participating businesses. We'll collect all the stamped passports for a chance in our prize drawings.
Here's the list of local businesses that are part of this event:
Ace Hardwardware – Brownsburg, 800 East Main Street*
BB Consign & Design LLC, 26 South Green Street *
BC Awards, 480 East Northfield, Suite #100
Basically Buttercream, 729 North Green Street *
Brownsburg Flower Shop, 121 Copeland Avenue
Core Threads Boutique, 311 East Main Street
Custom Picture Framing of Brownsburg, 680 East 56th Street*
Ella Mae's Boutique, 19 North Green Street *
Frazee Gardens, 3480 North State Road 267 *
iTek Phone Repair, 1430 North Green Street
Maddie's, 640 East Main Street *
Manscapes, 600 West Northfield*
Michele's Boutique and Gifts, 600 West Northfield
Nelson's Jewelers, 22 East Main Street*
Premier Arms, 417 East Main Street
Queen Anne's Lace, 680 East 56th Street, Suite F
Queen B's Boutique, 541 East Main Street
RockStar Pizza, 922 East Main Street
Stout's Footwear, 1430 North Green Street
The Hayloft, 1016 East Main Street *
*denotes chamber members
Remember that at local stores, the employees are friends and neighbors in the community – come out and support YOUR community!
Content Courtesy Brownsburg Chamber of Commerce.